:::
Departments
School of Dentistry
In addition to combining medicine with the arts, dentists should devote more attention to humanistic attainments and ethics, inspire empathy and enlighten mentality, and implement the principle of "learning from being a good man as a doctor, First "service concept! Based on the above concepts, the Department of Dentistry has set four special education goals. First, human culture: educating dentists with humanities, arts and humanitarian concerns. Second, excellence: developing dentists with social responsibility and superb medical skills. Third, the internationalization: cultivate a dentist with an international perspective and in line with the trend of the times; fourthly, research-oriented: to nurture dentists with research concepts and innovative responses. In order to cultivate a humanistic care, professional excellence dentist!
School of Dentistry-Master and Ph.D. Program
Advances in medicine are due to its fundamental research and clinical applications that create a major breakthrough in human health care, and advances in stomatology follow this "translational medicine" model. R & D and clinical application of artificial implants indeed overturned the traditional dentures and brought the convenience and advantage of the third set of teeth for human beings. However, behind these achievements, they are all accumulated by the bit by bit research institute.
Based on the above concepts, the educational objectives are set as follows. In the master's program, the first is culture. The second is excellence in dentistry. The second is excellence in dentistry. And qualifications; Third, internationalization: to cultivate professionals with international clinical and academic research in clinical practice and communication skills; Fourth, research-oriented: to cultivate professionals with independent thinking and clinical research capabilities. First, people culture: cultivating dental professionals with organizational consensus and service awareness; second, excellence: developing dental professionals with the ability to develop clinical trials of dental materials and perform clinical trials; and third , Internationalization: nurturing a professional ability to conduct joint research and cooperation with international dental related academic institutions; fourthly, research-oriented: cultivating a dental-related professional with leading dental research and innovative technology development.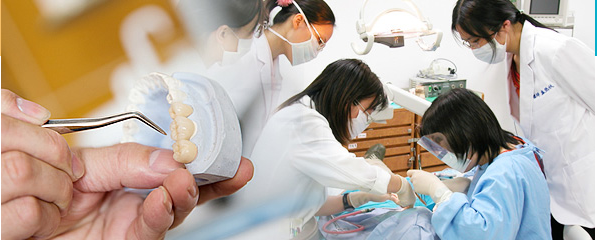 School of Dental Technology
School of Dental Technology Through the integration of technology, art and academic teaching, to cultivate professional dental technicians; to enable students to become more professional in the oral medical division of labor now, in addition to professional skills and licenses, but also to allow students to engage in dental research Work, in the introduction and application of new materials technology, with international standards, dental technology industry to sustainable development.
School of Oral Hygiene
School of Oral Hygiene is a new academic field that covers the prevention and health care of the entire oral diseases. WHO not only includes oral diseases such as dental caries, periodontal diseases and oral cancer in major prevention projects, But also because of oral health for the general health and quality of life are influential, but more prominent the importance of this department. However, the cultivation of Taiwan's professionals in this field has just started. The related prevention of these diseases is yet to be worked out. In the future, graduates will be responsible for the development of oral health policies, popularization of public health education, clinical dental work assistance, dental-related medical management and training of health education personnel. We welcome young friends who wish to regard oral preventive medicine as the direction of their life's efforts This team More aspiring young people will make the oral health of Taiwanese people receive more and better care.